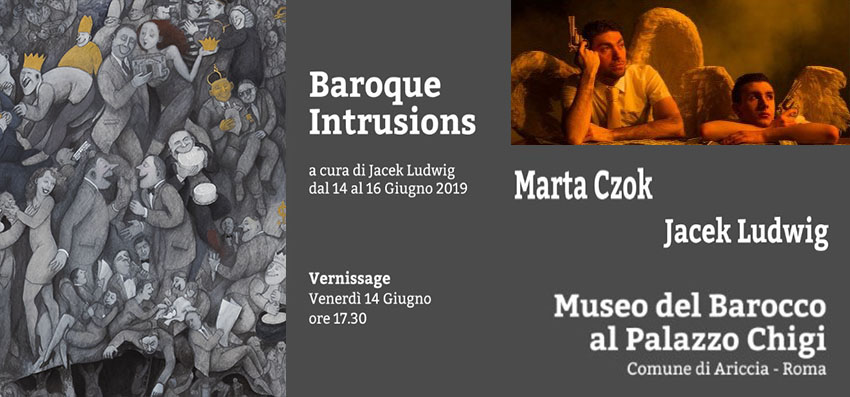 Baroque Intrusions
14th-16th June, 2019
Museo del Barocco a Palazzo Chigi, Ariccia (Rome)
Baroque Intrusions – Intrusioni Barocche is an interdisciplinary project, in which the eclectic and international vision of Marta Czok and Jacek Ludwig is counterposed to the Baroque, in the stunning setting of the Pinacoteca of Palazzo Chigi in Ariccia. The project aims to respond to this location in a site-specific way, directly exploring its unique aesthetics and its important collection, enabling the public to experience the Palazzo in an innovative way.
Marta Czok's paintings and Jacek Ludwig's multimedia works have already been presented side by side in acclaimed shows, such as Icons & Idols at Museo MACRO in Rome, and Equilibrio Precario at ArteSpazioTempo in Venice, during the 57th Biennale dell'Arte.
For Palazzo Chigi, their works are displayed in the spaces of the Museo del Barocco, theatrically lit to emphasise the dramatic impact of the exhibition. Historical masterpieces already present in the space are kept partially visible, as a symbolic presence that heightens the contemporary experience of this juxtaposition.
This exhibition will therefore include a range of artistic expressions: from paintings to installations and video projections as well as a specially conceived live intervention featuring international soprano Maya Sapone. Key to this experience are the latent parallels found between contemporary and historical works: in the dynamic composition that echoes Baroque imagery, or in the aesthetic of chiaroscuro; in the juxtaposition of themes between the seventeenth century world and nowadays.
Museo del Barocco a Palazzo Chigi 14th-16th June 2019 Vernissage Friday 14th June 5,30 p.m.