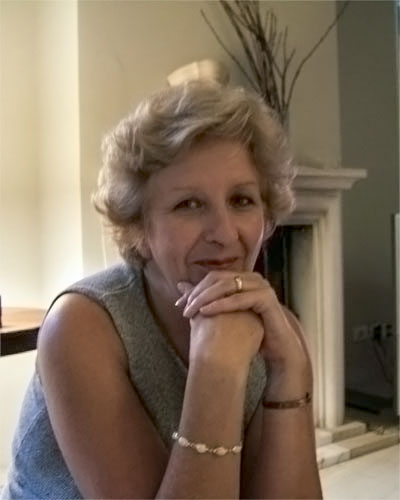 British of Polish origins, Marta Czok was born in Beirut (Lebanon) in 1947. The following year her family moved to London where she completed her training at St Martin's School of Art, taking part for several years in the Royal Academy Summer Exhibitions.
In the past 35 years her works have been shown in Europe and America also as part of the "Alitalia per l'Arte" project. In 2000 Alitalia commissioned a triptych by Czok, donated to Pope John Paul II for his 80th birthday. The same year, the French Embassy to the Holy See invited her to paint a work on the theme of the Jubilee. In collaboration with Albemarle Gallery, London, the Royal Caribbean Cruises Ltd also commissioned a painting by Czok for their ship Navigator of the Seas. In 2008 the Polish national television has dedicated a documentary to Marta Czok focusing on the relationship between her work and the Second World War.
Among her most recent exhibitions, several deserve a special mention, including her show Mother Rome at Museo Carlo Bilotti in Rome in 2016; the anthological exhibition at Castello di Calatabiano, organised by Museo MACS di Catania; Icons&Idols, a multimedia show held in 2013 at MACRO Testaccio di Roma – La Pelanda, born from a collaboration with Jacek Ludwig Scarso and Elastic Theatre from London; the solo exhibition at the Italian Institute of Culture in Warsaw, which was held in April and May of 2017.
Marta Czok has also worked on itinerating shows including the one dedicated to Children in War and in the Holocaust at Palazzo Ferrajoli (Rome), Museo Civico di Albano and Palazzo Antico Ghetto (Padua) and About Us, an exhibition on the theme of humanity, at Palazzo dei Papi (Viterbo), Palazzo Zuckermann (Padua) and Palazzo Zenobio (Venice).
Marta Czok lives and workds in Castel Gandolfo (Rome).
"All that I am is in my paintings, so I don't feel the need to appear or speak like an «artist». I imagine that deep down I'm a revolutionary and my battle is against the ridiculous abuse of power, whether it is caused by the State or the Church. It is all in my paintings, even though I sometimes included in a delicate, cautious way."
Marta Czok