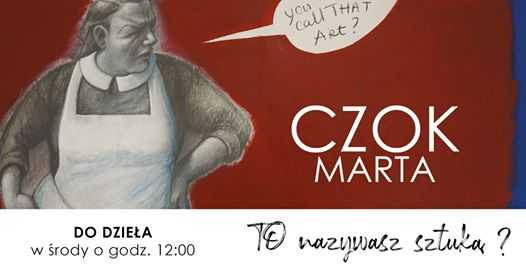 Marta Czok's  show at the Museum of Charicatures of Warsaw  offers a selection of over 20 satirical paintings, among the most representatives of her work. The paintings were previously shown in various exhibitions, in museums in Italy and elsewhere in Europe .
Marta Czok, a careful observer of the society in which she lives, of the world of politics and finance, shows in her paintings, ironically and uncompromisingly, two humorous thematic areas, which, however, clearly separate from each other.
The first contains motifs reminiscent of childhood, family scenes depicting events and celebrations, English and Italian customs presented with humour and sentimental tone, interspersed with fairy-tale references and imaginative theatrical sets.
The second area includes a criticism of the modern world, of hierarchies of power, of finance. In her figurative paintings, the artist presents a variegated society divided among those who are "at the top", and enjoy the privileges of their position, despising those who are always below, their servants. In this group of works, the artist condemns human behavior and vices: jealousy, gossip, presumption, mockery.
These are oil or acrylic paintings, with clear drawings. Gray, dark gray and graphite, red, blue, white and gold dominate. The colours have their symbolic meaning: gray and graphite symbolize the past and death, as well as sadness; red: wealth, strength, domination; blue: hope, joy, childhood; white – spirituality, transience; gold – wealth in the negative sense. Some images have an unusual format. Some have the shape of a triptych and the shape of altar paintings.
The works presented at the exhibition come from the artist's collection and from the collections of the Polish Emigration Art Foundation 1939-1989.
The exhibition will be accompanied by a bilingual catalog containing reproductions of selected works by the artist.
A virtual exhibition has been created for the occasion, which can be visited at this link.